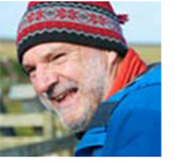 Winter weather isn't always
as bad as it seems...
Someone suggested to me the other day that I'll soon be putting my bike away for the winter. "Why would I want to do that?" I said in surprise.

I guess it's a common enough fallacy. Most folk think of winter in the worst possible terms - snow, ice, freezing temperatures, and while we usually experience such conditions at various times between November and March the truth of the matter is that conditions vary greatly during the winter months. Even living in the Scottish highlands, as I do, there are long periods in our maritime winters when conditions are reasonably mild.

I say "reasonably" mild. You still have to wrap up well and you still have to carry a waterproof even if you're not actually wearing one but the truth of the old adage about bad weather and bad clothing holds true. We have the technology, as they used to boast in Star Trek, so there's no real reason to put the bike away - just wrap up well and make the most of it. You might even enjoy it!

Over the past two winters I've been putting the miles in on the bike, training for springtime assaults on Land's End to John O' Groats two years ago and a French trip from the English Channel to the Med last year. Both trips were completed comfortably, but only because I put the miles in during the dark winter months. And do you know what? I really enjoyed those winter months on the bike. I witnessed some remarkable sunsets and I enjoyed some beautifully crisp, clear days when heaven itself appeared here in wintry Scotland.

Last February my old mate Hamish and I cycled from Glencoe to Oban and back on the (relatively) new Sustrans cycle path. It was 70-odd miles of blissful scenery under a deep blue sky. It wasn't even all that cold! On another occasion I went off for a couple of days exploring the whisky trails around Grantown, Dufftown and Tomintoul and the only thing that caused me any concern was the hilly terrain. There are some big hills in and around Tomintoul...

Next year Hamish and I will be heading to Ireland to attempt another end-to-end route. Mizen Head to Maiden Head is the target and as usual I'll be getting the miles in over the winter in preparation. We plan to cycle up Ireland's west coast, through Kerry, Clare, Galway, Mayo and Donegal and we hope to take in a bit of Irish music and fun on the way. It's a little bit shorter than our other two end-to-enders in terms of mileage but we expect we might need to get in a bit of endurance training this winter. So, there might be a few visits to the local just to get us in trim and, oh yes, we'll probably have to get some miles in on the bike too. They do say that Guinness packs a good glassfull of calories... We might need them.

Slainte...

Enjoy your bike (despite the weather).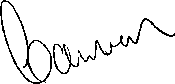 Cameron McNeish, Scottish Cycling Editor
Email: cameronmcneish@btinternet.com
---

Scottish Cycling Digital Subscription
If you would like to receive a free digital subscription to Scottish Cycling, you can register your details here.


---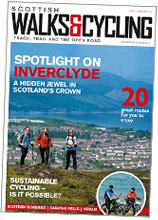 Prefer a Print Subscription?
You can still get the print magazine for free, to guarantee your copy its just £1 per issue to cover the postage and packaging.

That's just £4 for the 4 issues!

Quote ref number 4332 and call the subscriptions hotline on
0141 302 7744 or email subs@scottishcyclingmag.co.uk